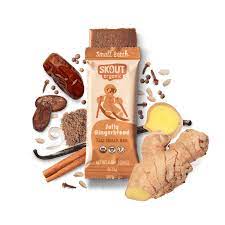 The holiday season has arrived with a chill in the air, and our newest Small Batch Kids Snack Bar is one you'll want to share!
Welcome Jolly Gingerbread, a gooey delight; it's sure to keep you warm with every bite.
Simple ingredients that the whole family will love; grab a box and share with everyone!
Ingredients:
Organic Dates, Organic Coconut Milk Powder, Organic Sunflower Seed Protein Powder, Organic Cocoa Butter, Organic Vanilla Extract, Organic Cinnamon, Organic Spice Blend (Organic Nutmeg, Organic Allspice, Organic Cloves, Organic Ginger).
Contains: Coconut.