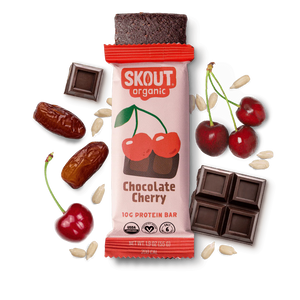 SKOUT ORGANIC Protein Bars are a natural, plant-based solution designed to keep you going throughout the day while providing several essential nutrients. These vegan and paleo protein bars utilize a combination of organic, protein-rich pumpkin seeds and dates, which provide natural sugars and several vitamins and minerals for a long-lasting energy boost. Available in four delicious and natural flavors — the perfect on the go and healthy snack for any outdoor or indoor activity.
Skout Organic Protein Bars, Chocolate Cherry, 6 Bars
PURE PLANT-BASED PROTEIN: Pumpkin seeds are one of the best sources of plant-based protein, making SKOUT ORGANIC Protein Bars moist and delicious while also adding healthy fats and protein. Dates also are packed with fiber, complex carbohydrates and are naturally low on the glycemic index, which help to avoid energy spikes and crashes.

CLEAN SNACKING & EATING: Our Chocolate Cherry protein bars are Certified USDA Organic, Certified Kosher, Vegan, Non-GMO, Gluten-Free, Soy-Free, Grain-Free, and Dairy-Free.

ONLY 7 ORGANIC INGREDIENTS: 100% transparency with our ingredients. We use simple, organic ingredients to make a great tasting product that?s easy to add to your daily diet ? simplicity never tasted so darn good.

PORTABLE ON-THE-GO BARS: These delicious bars make a great grab-n-go snack for any car ride or mountain adventure. Great snack for kids too.
What's important?
Organic

Vegan Snacks

Plant-Based Protein

Non-GMO

Gluten-Free

Diary-Free

Soy Free

No Refined Sugar

Only 7 Ingredients