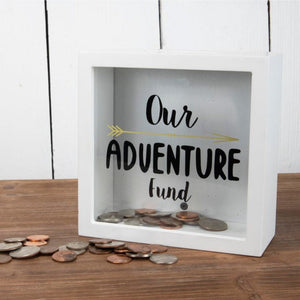 Made from wood, this savings bank is reusable time after time of filling it up! The white contrast to the black lettering and colored change leaves this functional decor piece shimmering when the light hits your adventure fund!
-Style: The wooden bank features a sleek white design and screen printed "Our Adventure Fund" design on the glass front.
-Style: This shadow box bank is a fun and cute way to save for your next travel adventure.
-Opening: A simple easy-twist tab on the back allows you to easily remove the contents of the bank once it's been filled up.